Who do you go on your Duck ride with?
When booking your Dells Army Duck tour, you might have a few questions. Is this a tour for families? Would a school or church group have fun on a tour? The answer to both of those questions is YES! The Army Ducks are a family-friendly boat tour for all ages. Learn about the history of the Dells area as well as enjoy some unique scenery of the lower Wisconsin River and Lake Delton. This tour takes place on both land and water and can be enjoyed by both children and adults a like. Get your tickets today!
Spotlight On Our Sister Attractions
Did you know that Dells Army Ducks is just one attraction available within the Dells Ducks Company? There are 3 other great adventures to explore, all of which are family-owned and provide fun for the whole family. Take a look below!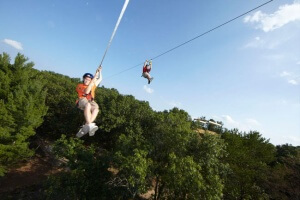 Bigfoot Zipline Tours are open year-round and feature 7 exhilarating towers! You'll learn tricks and enjoy the great Wisconsin scenery as you pass over trees and Sasquatch Lake. The last 2 towers in the course are racing towers, where you pick a partner and race side-by-side to see who finishes first! The first of the racing zip lines is the courses longest line at 1,397 ft, which is just over 1/4 mile! Zipzilla, the last tower in the course is the highest, and it takes you right back to the start!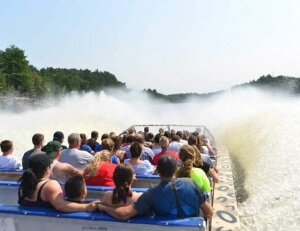 WildThing Jet Boats (also known as Captain Ron's Original Jet Boats) are 1,200 horsepower boats equipped with three V8 engines with a shallow bottom that travel at high speeds and create the ultimate thrill. WildThing Jet Boats are an activity for the whole family. Experience quick power stops, 360 degree spins, and be prepared to get soaked! Learn about the natural history of Wisconsin Dells as you pass by high cliffs on the Upper Wisconsin River. WildThing Jet Boats run from Memorial Day through Mid-October, weather permitting.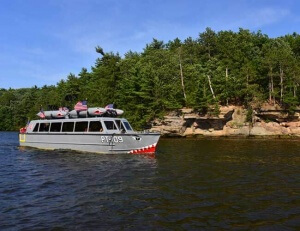 P.T. 109 Boat Patrol is an expedition among the Upper Wisconsin River which takes you through glacial rock formations on an entertaining 45 minute boat tour. Learn about the history of how the Dells were formed during the last ice age. The boat can also be rented as a venue for special events and private parties.

Dells Army Ducks are a Family-Owned Business
In 1946, a gentleman named Melvin Flath first brought the Ducks to Wisconsin Dells. He offered quality tours on both land and water to families visiting the area. 71 years and a few generations later, the Field Family continues to offer those quality tours to the next generations. Owner and Operator, Jason Field along with 7 other family members enjoy being able to work alongside each other to help other families create beautiful Wisconsin Dells memories.
Field's family has been in the boat business since 1894! His great-grandfather, F.A. Field owned 2 paddle wheel boats, and offered tours on the Upper Wisconsin River. On your next Wisconsin Dells vacation, be sure to hop aboard a Dells Army Duck Tour and experience this family-run business for yourself!
The Path and Scenery of an Army Duck
Make a splash in both the Wisconsin River and Lake Delton aboard your Dells Army Duck Ride. Explore the natural history of Wisconsin Dells and see rock formations like no other. The beautiful sandstone cliffs, some over 100 feet high, date back to the last ice age over 15,000 years ago! On land, see indigenous plants, some specific to the area like the Fragrant fern. When the Duck cruises across Lake Delton, kids can have the opportunity to drive the amphibious vehicle! If you're in to nature, landscape, water, lakes, rivers, cliffs, and gorges, then you should book your Duck Tour today! 
The Best Seats To Sit In On Your Dells Army Duck Ride!
Everyone wants to know the best seat to sit in when they hop aboard their Duck tour. Although every seat within a Dells Army Duck provides equal fun and excitement, there are a few seats that give you a different kind of experience. When you sit in the back few rows of your duck, you're more than likely going to get a small splash on you upon entering and exiting the water! Although you won't get completely soaked, you'll feel very refreshed from the mist. The seats in the front and middle of the Duck are easier for spotting scenery along the river. Which do you prefer?
A travel tip would be to keep your items on your lap or your seat, as water may lightly flow among the floor of the boat. Each tour is different as far as how wet you might get and which part of the boat will experience a splash.
In summary, every seat is the best seat to sit in on a Dells Army Duck. Book your tour today and find out for yourself. 
History of DUKW Vehicles in the Dells
Right after WWII, a Milwaukee gentleman named Melvin H. Flath read about an auction out in California where they were auctioning off a surplus of trucks. He went out there, and to his surprise found the trucks to be amphibious vehicles and nothing that he had imagined. These vehicles were used during WWII to help transport goods and troops over land and water. After some thought, Melvin bought what is now popularly known as a DUKW vehicle, or DUCK!
He rode his DUCK back to Milwaukee and was at first made fun of for his bulky purchase. He installed some used Milwaukee bus seats in his DUCK and on Sundays, would take his family in Pewaukee Lake. He charged others 50 cents to ride in his DUCK as he'd splash in the water! At one point, someone mentioned to Melvin that he should take his DUCK to Wisconsin Dells, where everyday is Sunday!
He did the following week and in 1946, began giving one and a half hour tours of the Dells. Over 70 years later, the DUCK tours continue to impress visitors to Wisconsin Dells with their rich history, nature scenery, and a splashing good time!
Will I See Wildlife on an Army Duck Tour?
As you're cruising along on your Dells Army Duck Tour, you'll see unique views, historic rock formations, and many other sights. But will you see wildlife? You bet! Although it depends tour to tour, chances are pretty good that you'll see a few animals on your tour. If you're not a fan, don't worry! They never come near the Duck.
It's always fun to be on an Army Duck tour and see a deer grazing in the forest as you're riding along. You'll probably also see squirrels, chipmunks, and other little animals while on land. As the Duck Tour splashes into either the Wisconsin River or Lake Delton, you'll probably see a few birds, and might even spot a bald eagle!
If you're interested in finding out more, book your tour today!
Dells Army Ducks are an Adventure for the Whole Family
When booking your family getaway to Wisconsin Dells, a Dells Army Duck Tour is an activity that the whole family can enjoy. Whether you're interested in the Dells unique rock formations and landscapes, or you're just in it for a ride on one of the famous amphibious vehicles, an original Army Duck Tour offers a little bit of everything.
On your journey, learn about the history of the Dells area and view beautiful geological features that were created at the end of the last glacial period. One of the favorite parts of the ride among the kids is driving into the waters of Lake Delton and the Lower Wisconsin River! Although there is a splash, don't worry you won't get too wet!
Gather the family and make your reservation today!
Will I get wet on my Duck Tour?
Will you get wet on a Dells Army Duck Tour? The answer to this varies. We can assure you that you won't get soaked to the point where you need a towel to dry off, but you might get sprayed a little bit. Either way, here's the 411 on how wet you'll get:
*The back of the Duck is the wettest!*
You may get splashed lightly, or a little bit of water may flow in from over the back of the Duck. Be sure you have nothing on the floor of the vehicle and that you have decent shoes or sandals on.
*The speed you enter the water determines how wet you may get!*
The driver may ask if you want to enter fast or slow. The faster you go, the more potential there is to get wet. If everyone starts cheering "fast, fast, fast", there is no need to panic! Sit on the inside seat to stay dry and you will probably just feel a small mist against your arm.
Duck tours are an original way to experience the natural history of Wisconsin Dells both on land, and in water. Book your tour now!
What is an Army Duck Tour?
An original WWII-era Wisconsin Dells Army Duck is an amphibious vehicle that has been cruising through Wisconsin Dells, offering tours to visitors for over 70 years! The vehicle itself has tires to navigate on land, and a propeller to navigate in the water! This means that during the land and water tour aboard a Dells Army Duck, you can remain in the same seat the whole time. If you've never experienced it before, it's a unique feeling when riding in a Duck as it drives into the water! There's always a little splash, but not enough to get you soaked!
The guided Duck Tours take you through the unique land formations, created from the glacial period thousands of years ago. You'll see sandstone cliffs, ride through gorges, and make a splash in Lake Delton as well as the Lower Wisconsin River.
An Army Duck Tour is for the whole family. So what are you waiting for? Get your tickets today!