The WildThing Experience
Are you ready for the wildest boat tour of your life? Be prepared to hang on tight as you cruise up and down the Wisconsin River on a WildThing Jet Boat Tour. This tour is nothing like you've ever experienced before. This boat features a shallow bottom and cruises at high speeds along an 11-mile stretch of the Wisconsin River. Get excited when you get a few splashes of the river on you along the way! This is what we call "Liquid Sunshine". To experience the wildest tour of your life, make you reservation for a WildThing Jet Boat Tour today. Tickets are good until they expire!
How to Prepare for your WildThing Jet Boat Tour
You've already booked your tickets for an exciting day on a WildThing Jet Boat. How do you prepare for your tour to ensure that you have the best time imaginable? We've compiled a list of a few recommendations to make sure you have a splashing good time:
-Arrive about 25 minutes before your tour, so enough time is allowed for check-in and orientation of the facility.
-We wouldn't suggest bringing your phone or valuables, unless they are in a secure waterproof bag that fits in your pocket.
-Keep in mind that there is no bathroom on board, but facilities are available at the point of embarkation.
-In cases of inclement weather or if someone isn't feeling well in your group, your tickets are valid until used, so you may reschedule to another time, or gift them to family or friends that are coming to the Dells!
Last but not least, prepare yourself for a wild ride! For more information, visit our frequently asked questions at: https://www.dellsducks.com/faq/
What 360 Degree Spins Feel Like…
Take a ride on the wild side with the most thrilling boat tour in the Dells! WildThing Jet Boats provide a close up experience of the Upper Wisconsin River and the sandstone rock formations that surround it. But what makes this tour unique is that it is fast! Really fast! With a 1,200 Horsepower motor, there's no limit as to what this Dells jet boat can do!
As you're traveling down river at high speeds and the captain slams on the breaks, brace yourself for a power stop followed by a 360 degree spin! What does this feel like? Imagine that moment at the top of a roller coaster just as you're about to ride down the steep hill! Your heart races and you don't know what's coming next. All of a sudden it hits you. Just like a tilt-o-whirl at the fairgrounds. A giant wave splashes up into the boat. On the hot summer day, it feels so refreshing! You're surrounded by your family and friends who also feel the fun! This is by far the most thrill you've had all summer!
To experience this rush as well, make your plans to hop aboard a WildThing Jet Boat on your next vacation to Wisconsin Dells.
All Aboard! What is an Original WildThing Jet Boat?
Hang on and prepare for for an exciting thrill ride this summer when you step aboard a WildThing Jet Boat Tour! Experience power stops, 360 degree spins, and a whole lot of water as you cruise along the upper Wisconsin River. Learn about the history of the Dells on this 11-mile journey. See famous Dells landscapes such as High Rock, Sunset Cliff, Devil's Elbow, and Witches Gulch. This tour is for the whole family and departs daily, Memorial Day thru Labor Day. The forecast this summer at the Original WildThing Jet Boats is 100% fun mixed with a chance of "liquid sunshine."
For more info, please give us a call at: (608) 254-6080
Spotlight On Our Sister Attractions
Did you know that Dells Army Ducks is just one attraction available within the Dells Ducks Company? There are 3 other great adventures to explore, all of which are family-owned and provide fun for the whole family. Take a look below!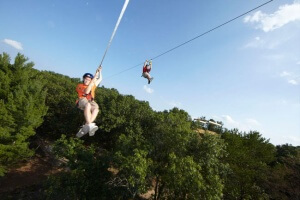 Bigfoot Zipline Tours are open year-round and feature 7 exhilarating towers! You'll learn tricks and enjoy the great Wisconsin scenery as you pass over trees and Sasquatch Lake. The last 2 towers in the course are racing towers, where you pick a partner and race side-by-side to see who finishes first! The first of the racing zip lines is the courses longest line at 1,397 ft, which is just over 1/4 mile! Zipzilla, the last tower in the course is the highest, and it takes you right back to the start!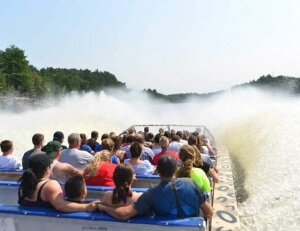 WildThing Jet Boats (also known as Captain Ron's Original Jet Boats) are 1,200 horsepower boats equipped with three V8 engines with a shallow bottom that travel at high speeds and create the ultimate thrill. WildThing Jet Boats are an activity for the whole family. Experience quick power stops, 360 degree spins, and be prepared to get soaked! Learn about the natural history of Wisconsin Dells as you pass by high cliffs on the Upper Wisconsin River. WildThing Jet Boats run from Memorial Day through Mid-October, weather permitting.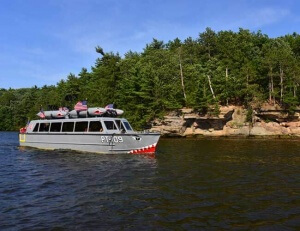 P.T. 109 Boat Patrol is an expedition among the Upper Wisconsin River which takes you through glacial rock formations on an entertaining 45 minute boat tour. Learn about the history of how the Dells were formed during the last ice age. The boat can also be rented as a venue for special events and private parties.