Spotlight On: Duck Driver Carly Pfeifer
Get to know your Duck Drivers! This week, we'd like to highlight Carly Pfeifer! This will be her second summer as a driver here at Dells Army Ducks. We asked Carly what she enjoys about her job and she exclaimed, "My favorite part about driving the Ducks is probably how well all the drivers get along. Working at the Ducks is like having another family. I didn't think that I could get so close with people in only 3 months, but I did and I'm so happy that I got a job here. I also like being able to say that I'm a Duck Driver. A lot of people think its so cool when I explain my summer job to them and they're impressed that I can drive such a huge vehicle so well."
Carly is from Wisconsin Dells and enjoys being able to meet new people every day in the summertime. If you ride a Duck this summer, you might be lucky enough to be on her Tour!
If you're interested in working with Dells Army Ducks, please visit: https://www.dellsducks.com/employment-application
Spotlight On Our Sister Attractions
Did you know that Dells Army Ducks is just one attraction available within the Dells Ducks Company? There are 3 other great adventures to explore, all of which are family-owned and provide fun for the whole family. Take a look below!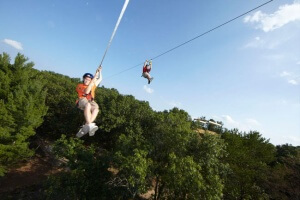 Bigfoot Zipline Tours are open year-round and feature 7 exhilarating towers! You'll learn tricks and enjoy the great Wisconsin scenery as you pass over trees and Sasquatch Lake. The last 2 towers in the course are racing towers, where you pick a partner and race side-by-side to see who finishes first! The first of the racing zip lines is the courses longest line at 1,397 ft, which is just over 1/4 mile! Zipzilla, the last tower in the course is the highest, and it takes you right back to the start!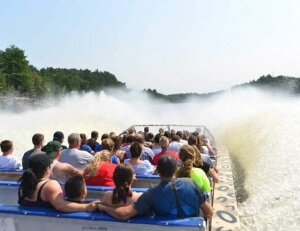 WildThing Jet Boats (also known as Captain Ron's Original Jet Boats) are 1,200 horsepower boats equipped with three V8 engines with a shallow bottom that travel at high speeds and create the ultimate thrill. WildThing Jet Boats are an activity for the whole family. Experience quick power stops, 360 degree spins, and be prepared to get soaked! Learn about the natural history of Wisconsin Dells as you pass by high cliffs on the Upper Wisconsin River. WildThing Jet Boats run from Memorial Day through Mid-October, weather permitting.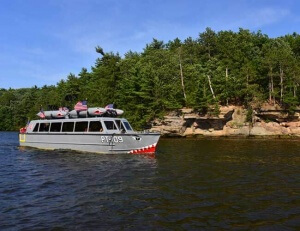 P.T. 109 Boat Patrol is an expedition among the Upper Wisconsin River which takes you through glacial rock formations on an entertaining 45 minute boat tour. Learn about the history of how the Dells were formed during the last ice age. The boat can also be rented as a venue for special events and private parties.

What does 1,200 Horsepower Feel Like?
Get ready to experience a boat ride at full throttle. The WildThing Jet Boats are the perfect thrill for both kids and adults! This tour takes you on the Upper Wisconsin River, and cruises past famous landmarks such as Witches Gulch and Glacier Park on the Wisconsin River. To answer the question in the title, What does 1,200 horsepower feel like? It feels exhilarating and refreshing. The hot summer sun on your face with the mist of the river cooling you off is an experience like no other. With 360 degree spins and power stops, our captains make sure everyone has a safe and fun experience. You'll have to try this fun and exciting 1-hour tour for yourself. Book yours today!
360 degrees of Spin on a WildThing Jet Boat Tour!
Wisconsin Dells' most popular Jet Boat Tour is all about fun! Gather your friends and hang on as you experience a WildThing Jet Boat Ride! Be prepared to get soaked and cool off in the hot summer sun. This 1,200 horsepower jet boat will take you beneath the towering cliffs of the Upper Wisconsin River, passing the famous Sunset Cliff & Witches Gulch. My favorite part of the tour is when the boat suddenly comes to an abrupt stop, causing it to spin 360 degrees and a big wave to come overboard, cooling off everyone!
Besides getting splashed, you'll learn about the past history on the Dells and the rock formations along the Wisconsin River. With all of the excitement and fun to be had on a WildThing Jet Boat ride, be sure to give it a spin this summer on your next visit to Wisconsin Dells.